LCDOT is studying the potential non-motorized improvement for a new 1.4-mile multi-use path along Washington Street between Mainsail Drive and Almond Road in the Villages of Gurnee and Third Lake, and Unincorporated Lake County. This is an opportunity to fill an identified bike path gap between Mainsail Drive and Almond Road. The project will also include a new sidewalk between Sextant Drive and Mainsail Drive on the north side of Washington Street, filling in an identified sidewalk gap.
The aim is to install a bike path on either the north side or the south side of Washington Street from Mainsail Drive to Almond Road. At this public forum will show the alignment alternatives on both the north and south sides of the road for comment. Lake County is targeting 2024 construction for this project, which is currently in Phase I (Preliminary Engineering). 
Provide Input at: lakecountyil.gov/WashingtonBP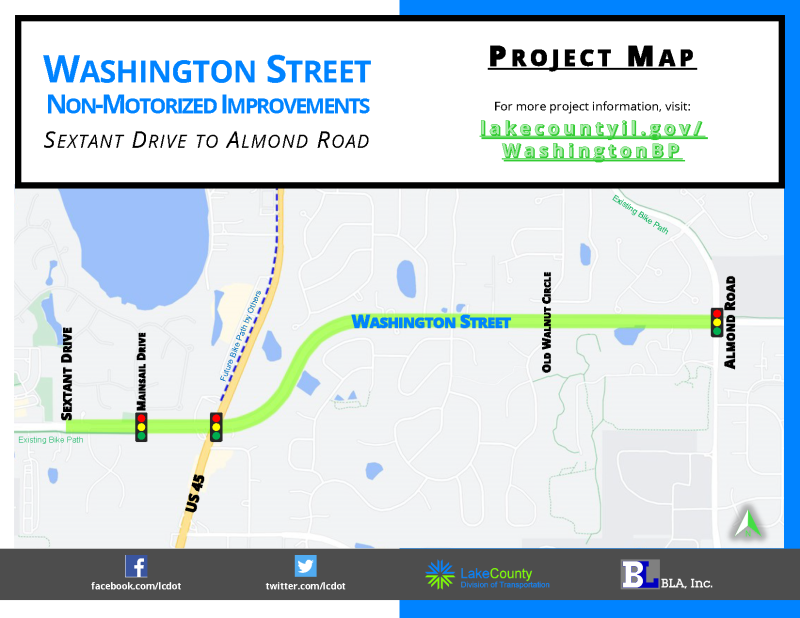 Reason for the Study
A bike path gap currently exists between Mainsail Drive and Almond Road on Washington St. A sidewalk gap also exists between Sextant Drive and Mainsail Drive on Washington St.
The completion of this 1.4-mile gap will provide nearly seven miles of continuous bike network along Washington St. spanning from the Village of Round Lake to the Village of Gurnee. Users will be connected to many key destinations like businesses, schools, parks, forest preserves, Metra and Pace stops, and the College of Lake County as well as other bike trails like the Millennium Trail and the Des Plaines River Trail.
LCDOT works with municipal agencies and other partners to look for opportunities to connect the dots and fill the gaps in the non-motorized network. A path along this corridor was listed in Lake County's 2040 Non-Motorized Plan that identifies opportunities to improve the viability of travel in Lake County without the need for an automobile.
---
Providing Input
LCDOT created a virtual forum for you to share your ideas and questions through June 17, 2022. Use the interactive comment map to provide an exact location of your input. All input submitted through the website goes directly to the project study team.
Provide your input and learn more at: lakecountyil.gov/WashingtonBP
Others ways to provide input on the project include:
Email
DOT@lakecountyil.gov
Mailing
Lake County Division of Transportation
600 W. Winchester Road, Libertyville, IL 60048
Calling
847-377-7400
---
Project Timeline
This project will span a few years of planning, coordination, and design before construction will begin. Currently, construction is scheduled to begin in 2024 dependent upon project readiness and funding availability. Ensure you stay up to date by signing up for project updates.